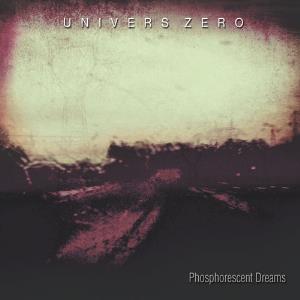 Wow, this could be disputably the band's longest album title to date after their Ceux Du Dehors. Does this spell a change of attitude? Well DD certainly changed a few things in his lifelong project and maybe the most shocking one is the change of label. I'm still at odds at guessing why Daniel thought that he would get a better support than Feigelbaum's Cuneiform label, but the resulting album is not only a very expensive album, but it is not well distributed and not available widely on the web? and not at all in brick & mortar record store. Past that first consideration, the band's line- up has been revamped, with ex-PaNoPTiCoN and present day Wrong Object keyboardist Antoine Guenet and on guitar Nicolas Duchêne. Elsewhere, Dimitri Evers (bass, and Budé (winds) are alongside Daniel, but we're also seeing a few guests, such as sonny Nicola on drums for a track, and a horn section comprising of Hugues Tahon (trumpet) and Adrien Lambinet (trombone) on three tracks. Recorded and mixed at Didier De Roos's installations in Braine and Soignies throughout the second part of 2013, PD was released in January of the following year, with a post- atomic (or stormy) artwork, courtesy of Thierry Moreau.
Well, the corridor noises were that UZ's sound was (finally?) going to change a fair bit with the line- up changes and an electric guitar in the fold. The leastr we can say is that the sonic changes are not immediately audible, and maybe the prime culprit is the unchanged songwriting. Indeed seven tracks, ranging from almost-5 to almost-13-minutes, composed by Daniel (4 of them) and Kurt Dubé (the remaining three) are not much of a change in the light of UZ's overall discography. Are we looking at Clivages' obvious successor or at an Implosion-like venture? Little doubt that from the first notes of the 10-mins Shaking Hats, you're looking more at the first option than a divergence from the Universal (and absolute) Zero. Despite DD's French and Japanese liner notes as to turn the band to a more "electric sound" to remedy to what he was seeing the band's stagnation (my words, not his).
Technically, the electric guitar and keyboards (Pierre Chevalier was playing on digital synths anyway), but it's not like it brings a major contribution or change the band's soundscapes a great deal. My guess is that DD's near-pathological perfectionism saw that the band's impetus was waning and thought a revamp was needed. For the audible results on the album, I find the changes so un-remarkable that the risk he took angering the "sacked" long-standing Chevalier and Berckmans not worth it. I'm sure the former got over it (he's a busy man), but not nearly as sure for the later. As with the preceding Clivages and the anterior Implosion, UZ's general mood is relatively lighter than it was in the 80's and 90's, and though I wouldn't qualify PD of light-hearted danceable music, there are moments where a certain warmth reaches your vicinity. Of course, this doesn't apply for the sinister title track.
The big debate around RIO-heads is whether the very-high price of the album (and its shipping from Japan) is worth the investment. Obviously, if you're an unconditional UZ fan, it will be worth the important hassle and costs, but if you're a little more objective, you'll think twice or thrice before doing so, especially if you know that, outside the slight line-up change, Phosphorescent Dream is yet another "normal" UZ album. As such, I don't find it essential per se (the last to date was Implosion, IMHO), but it's a very worthy album nevertheless.Review from
progarchives.com
Songs / Tracks Listing
1. Shaking Hats
2. Rêve Mécanique
3. Très Affables
4. Vocation
5. Les Voleurs d'Ombre
6. L'Espoir Perdu
7. Phosphorescent Dream
Line-up / Musicians
- Kurt Budé / clarinet, bass clarinet, alto and tenor saxophones and percussion
- Daniel Denis / drums and percussion
- Dimitri Evers / electric and fretless bass
- Nicolas Dechêne / electric and acoustic guitars
- Antoine Guenet / keyboard
Guest musicians:
- Nicolas Denis / drums and percussion (3)
- Hugues Tahon / trumpet (2, 6 & 7)
- Adrien Lambinet / trombone (2 & 6)