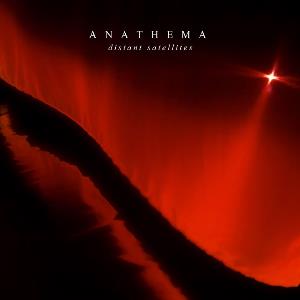 It's been quite a past few years for the incredible Anathema. Honors have been bestowed upon them, they've released an instant classic album in "Weather Systems", and last year they released one of the best live concert films I've ever seen, "Universal". Anathema is on top of the world, and they are only getting bigger. With all of this on their shoulders, they approach the world once again with their new album, "Distant Satellites", a fitting name for a massive album. Again, with all of their recent success creating huge expectations, can this band meet such critical reception? Needless to say, Vincent Cavanagh on vocals, Danny Cavanagh on guitar, Jamie Cavanagh on bass, John Douglas on percussion, Daniel Cardoso on drums, and Lee Douglas with her wonderful vocals were all up to the challenge.
"Distant Satellites" is a very different album from "Weather Systems", or anything else they've done, for that matter. It is different, yet somehow instantly familiar. It includes everything that makes them Anathema, but adds new and exciting elements to their already excellent formula. If you've never heard Anathema, their formula (in their last few albums, anyways) includes soaring guitars, amazingly catchy melodies, spiritual lyrics, and emotional flow both vocally and structurally. They are the masters of melody, and they remain complex and progressive even while being simple and accessible. They are truly masters of their craft.
This new album, then, is no different in those terms. The melodies return in force, such as the serene beauty of "The Lost Song" parts 1-3. And, yet, there is something different here. The melodic lines are somewhat more complex, less in-your-face, and more organic. This especially shows in the song lengths, most of them being over five minutes. This allows for more growth and more progression. Indeed, then, the melodies on "Distant Satellites", while not being as instantly lovable or recognizable, are certainly more difficult and possibly will have a longer "shelf life" in my mind. Yes, the orchestrations seem to be lower key, as well, allowing the vocalists to express themselves more personally then ever.
There are other improvements, too. I feel that the musicianship is more fervent and on a higher plateau of difficulty than Anathema has tried. Drummer John Douglas, especially, plays amazingly well from start to finish, accenting the music with awesome pounding and fills. The rest of the band are at their peak, too, with Vincent and Lee being especially great with emotional and meaningful vocal performances.
"Distant Satellites" is different in more meaningful ways, too. Utilizing post-rock/metal structures is nothing new for Anathema, but they really do perfect them here, as on "Dusk", a dark, climactic song. Yet, there is a sense of continuity between tracks, too. This is obviously the case between the three parts of "The Lost Song", but it's also apparent throughout the album, as if Anathema is telling us a story, convincing us of our true selves and our connection with the universe and with each other.
This album is wonderful in the first half, but my excitement reached new heights in the second half. Anathema has taken it upon themselves to change things up a bit. They wanted to progress their sound, but make it all seem so natural. So, in the second half, the album climaxes with one of the best songs, simply called "Anathema". But then, we are thrown for a loop somewhat, as "You're Not Alone" features a hefty portion of electronic vibe. It's great, but the best is still to come.
Next, "Firelight", a darkly ethereal instrumental track that is completely electronic, is thrust upon us, and is followed up by what may possibly be the best song Anathema has ever produced, "Distant Satellites". This track combines everything that has ever made Anathema great: soaring melodies, climactic structure, gentle spirituality, amazing vocals, and now an electronic beat that is both complex and catchy. Vibrant, mesmerizing, and pure, this track elates me every time I hear it. It takes this album, and my heart, to new heights. The album finishes with a gentle ballad that just seems so fitting, yet it still has the strong electronic influence.
So, is "Distant Satellites" a winner? In every way! Is it their best album? I don't know; it has the potential, but it might take time, just like "Weather Systems" did. What I can tell you is that this new album is more mature, more progressive, more interesting and eclectic, and less formulaic then anything Anathema has crafted yet. It does sacrifice some accessibility and some instant likability for these things, but I respect their decision massively, and I fully expect to see "Distant Satellites" at the tops of many lists at the end of 2014.
Review from Progarchives.com
Songs / Tracks Listing

"The Lost Song, Part 1" - 5:53
"The Lost Song, Part 2" - 5:47
"Dusk (Dark Is Descending)" - 5:59
"Ariel" - 6:28
"The Lost Song, Part 3" - 5:21
"Anathema" - 6:40
"You're Not Alone" - 3:26
"Firelight" - 2:42
"Distant Satellites" - 8:17
"Take Shelter" - 6:07
Line-up / Musicians
Vincent Cavanagh / Voice, Guitar, Vocoder
- Danny Cavanagh / Guitar, Keyboards, Voice
- Jamie Cavanagh / Bass
- John Douglas / Drums, Keyboards
- Lee Douglas / Voice