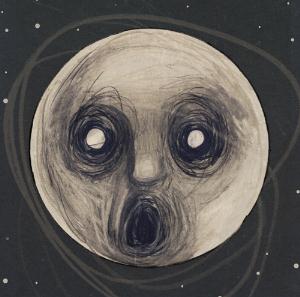 Steven Wilson is arguably a modern genius of the prog community along with Mikael Akerfeldt, yet when they both came together for the Storm Corrosion project it had little impact on me. Wilson however as a solo artist has become intensely passionate about his music, and his solo albums are incredible masterpieces, especially 'Grace For Drowning' that floored me to the point where I had to obtain the deluxe version. Having to follow up such a brilliant album is not an easy thing but somehow Wilson has done so with a flourish that has heralded in the 2013 year in admirable style. Alan Parsons was on board to engineer this album so one would have to expect a high quality sound and it doesn't disappoint.
The album cover is like a rash all over the net with the astonished moon looming full and iconic in the darkness. The artwork is simple but embeds itself into the conscious easily and thus does its job to gain attention. The rest of the artwork in the Deluxe Version booklet consists of line drawings, some colourful paintings of the dishevelled looking kid in dense locations, a miserable man looking into a beer glass, later drinking a shot, some disturbing scratchy drawings, darkened stairwells and window frames, creepy faces staring out, images of a house, a tree and the scrawny watchmaker at work as his wife looks on, frames from the 'Raven' video clip with snow falling down in the forest, and the shivering old man pursuing the elusive bird. The booklet is extensive and arty as one might expect, and ends with an amusing drawing of the band playing looking like thin men with Wilson headbanging away. The artwork on the CD is the Raven looking mystical and enigmatic, and of course if you did get the Deluxe package you also have a 7 song demo to indulge in and the album in 5.1 sound on a blu ray and a DVD thrown in with all the clips and interviews.
'The Raven That Refused To Sing' has been promoted with film clips hovering about on the internet way before its release date and the film clip images that accompanies the title track are extraordinary. Wilson has reinvented himself again on this album, discarding the darkness of 'Grace For Drowning', and embracing a sound more akin to Porcupine Tree, oddly enough. The title track is masterful, and as it was the first track I heard initially I will start here. It is laced with beautiful keyboards and a pretty melody masking the downbeat lyrics that focus on the man's dead sister, that haunts the storyteller like the raven, and he misses her terribly and dreams of her to return to him; 'Just because I'm weak, You can steal my dreams, You can reach inside my head, And you can put your song there instead.'
Lyrically the poetry in the song has a melancholy edge. The images on the clip of an old man in a forest encountering a raven and then pursuing it finally capturing it and then dying, have a profound symbolic resonance. According to Wilson, the songs have classic Gothic ideas interspersed with suggested dread, regret, loss and the fear of mortality, or impending death, thus the omen of the Raven. It is these ideas that create a very unique atmosphere on the album. The raven essentially becomes, in the mind of the old man, a reincarnation of the old man's dead sister, and in his own delusion he believes if he can capture the raven and hear him sing he can recapture the life of his dead sister. The music is stripped back at times to a piano reverberating in the stillness. Wilson knows how to build on musical ideas and surpasses himself with such tracks, the mesmirising and haunting beauty is superb.
The album opens with 'Luminol' with a delightful pulsating bassline and reverb wah wah guitar splashes. Musically the album is faultless and the flute enhances the quality. There are some wonderful Yes-like multilayered harmonies for a moment and then the extended musical break dominates, with an odd time sig, an intense spectrum of bass, pounding percussion, floating flute, and Mellotron sounds. The electric piano runs have a 70s vibe especially when it builds with a shimmering soundscape, and utilising distortion devices and a ring modulator to good effect. At 4:35 it settles into a minimalist rhythm guitar and Wilson's vocals, in his reflective mood, with references to pop culture, 'the songs he learned from scratched LPs, stops in mid flow to sip his tea.' The lyrics centre on a protagonist who has died even in death continues to discover answers through reminiscing on the past or reflecting on a life that has faded; 'He strums the chords with less than grace, Each passing year etched on his face', is a reflection on how one might feel as we are 'born into a struggle, To come so far but end up returning to dust.' This ghost is a metaphor of fear and our obsession with mortality, according to Wilson in his online interviews.
Wilson doesn't labour on grim themes or death however throughout, and this album has more rays of hope than the shadows of despair found on previous releases, and leaves one with a profound sense of fulfilment. The music is uplifting and energetic, infused with passion throughout and progressive ideas using all the musicians at Wilson's disposal. The flute playing of Theo Travis is exquisite, but I am a real fan of that grinding organ by Adam Holzman, and the way the guitar interplays creating those endearing melodies. 'Luminol' is a masterpiece of the album and a promise of things to come.
Next is 'Drive Home' that opens with a sweet Neo-Classical melody that sounds partially like 'Castle In The Clouds' from 'Les Mesirables'. When Wilson comes in on vocals, the signature locks into a steady measured pace. All is held back like the old days of Porcupine Tree or the 'Deadwing' era. There is a remarkable beauty that emanates from the Mellotrons that sound like violins. The chorus is Wilson at his most melancholy with thought provoking lyrics; 'You need to clear away all the jetsam in your brain, And face the truth, Well love can make amends, While the darkness always ends, You're still alone so drive home.' The instrumental break is stripped back to a nice fingerpicking guitar motif, like Steve Howe, and Travis's achingly beautiful flute is layered over. The lead guitar break of Guthrie Govan that follows is incredible, soaring emotionally and adds so much depth to the overall atmosphere.
'The Holy Drinker' is a glorious throwback to the eclectic prog of vintage King Crimson meets Van der Graaf Generator, with elements of jazz fusion and mind blowing dissonant saxophone blasts. It opens with the wavering keyboard sound heard on Van der Graaf Generator's 'A Plague Of Lighthouse Keepers', then breaks into a cacophony of sound like a jazz shop exploded. Theo Travis is master at the sax helm and Wilson is the commander as he constructs this disharmony of musical instruments. I adored this on first listen and it soon became the quintessential track of the album for me. After this outlandish intro, the song finds some semblance of structure and Wilson sings some odd lyrics that I don't want to think about too deeply; 'With shaking hands and blackened heart, The glass he pours, this time it's also the last, In rapt communion with himself, The Holy Drinker is going straight in to hell.' On cue the song breaks into extended soloing with some wonderful organ and chirping flute taking centre stage. I love how the organ has that Keith Emerson 'Tarkus' sound at 6:25, but a special mention goes to the sporadic drumming of Marco Minnemann and Bass of Nick Beggs that are always on target and played to perfection. The song settles into Wilson's echoing gentle voice at about 8 minutes in, but it feels ominous as though the jazz fusion will break out at any moment. Then a grinding Van der Graaf Generator organ sound growls viciously with a downbeat tone, joined by odd rhythmic guitars. This feels like the coda of VDGG's 'White Hammer' and it is ferociously off kilter enough to jar the senses to their most awakened state. AlI in all a furious blast of masterful music and one to seek out for those interested in checking out the best on the album.
Thus far the album is astonishing, nothing less than brilliant prog, so I was looking forward to the next half. 'The Pin Drop' is the shortest song at 5.03, and has Wilson on his highest register tone singing; 'Carried away by the river that passes through bulrushes on to the sea, Dragged by the current to rest on the stakes of the breakwater shaded by trees, Beginnings and endings, love intersecting a rift that will break us apart.' The return of the sax is so welcome, and Travis lifts off with massive runs and haunting squeals of jazz ecstasy. The song moves into a Twilight Zone like atmosphere melodically, and feels again like vintage Porcupine Tree. The layered harmonies are exceptional and create a wall of sound, and all is augmented by the accomplished lead guitar solo of Govan. All this in 5 minutes, simply incredible work from Mr Wilson.
'The Watchmaker' is another of the album's epics, and showcases Wilson's poetry in the lyrics; 'The watchmaker buries something deep within his thoughts, A shadow on the staircase of someone from before, This thing is broken now and cannot be repaired, Fifty years of compromise and aging bodies shared, Eliza dear, you know there's something I should say, I never really loved you but I'll miss you anyway.' The music is appropriately like a music box chiming, very Gabriel-era Genesis in fact, and is enhanced by dreamy flute embellishments. There is a glorious lead guitar solo, perhaps the best on the album with Govan taking on speedy licks effortlessly and the squeaky sax joins in and it suddenly reminds me of Pink Floyd. The song takes on a new format then with piano runs and Wilson's voice emanating thoughts of the Watchmaker who reminisces on a dark deed involving the murder of his wife who has returned from the grave; 'But for you I had to wait, Until one day it was too late.' The music and harmonies become more romantically intertwined utilising old school 'do do do's' and then finally it breaks out into an odd time sig and some glistening piano sparkles, a booming bass solo reminding me of Rush's Geddy Lee. Finally the next phase of the music becomes dissonant with weird off tones in a 7/8 meter, being used where they should not, creating a disquieteing effect. This is a complex piece of music and perhaps the darkest track on the whole album, more like the 'Grace For Drowning' themes than others on offer.
It ends of course with the beauty of 'The Raven That Refused To Sing' and we are left with an astonishing album of dark haunting power as only Wilson knows how to create. This is certainly a different creature than 'Grace For Drowning' and did not impact me like that masterpiece, and yet this latest release is mesmerising on every listen. It is an album to listen to with unwavering focus, as is all of Wilson's work; music designed for headphones. It is hard to rate this album as everything is so well placed and perfect; Wilson throws in so many ideas that it is impossible not to enjoy this if your ears are attuned to experimental progressive ideas. It did not measure up to 'Grace For Drowning' for me, but still is a masterful album presented in a compact form of less than an hour. If you want more, the Deluxe version is ample enough though did not add that much musically, but more artistically. The experience is sheer joy when an album comes out that embraces all that is great about prog. The sax, the organ, the lead guitars, the rhythms; all are played to perfection. Wilson's voice is faultless and his ideas are poetically conveyed to precision.
Perhaps it is too perfect and too calculating for some listeners and I can understand how this can be off putting, and why it has received mixed critical reactions. However, Wilson is nothing short of passionate about his music and every note is placed to generate a congenial effect to enhance the overall experience. This is a series of stories, as the album titles states, and each story has its own atmosphere and style though there is a consistency in the thematic juxtaposition of music and vocals. It is a far superior album to some of the earlier Porcupine Tree albums and indeed Wilson's debut solo. I would rank it easily among his greatest triumphs, and certainly it is going to be one of the albums of the year. An album this bold and inventive deserves full recommendation and thus far it is the best release in 2013, so 5 shining stars to a modern musical genius that continues to produce prog at its highest caliber.Review from
Progarchives.com
Songs / Tracks Listing

1. Luminol (12:10)
2. Drive Home (7:37)
3. The Holy Drinker (10:13)
4. The Pin Drop (5:03)
5. The Watchmaker (11:43)
6. The Raven That Refused To Sing (7:57)

Total Time 54:43
Line-up / Musicians
- Guthrie Govan / lead guitar
- Nick Beggs / bass guitar
- Marco Minnemann / drums
- Adam Holzman / keyboards
- Theo Travis / saxophone, flute
- Steven Wilson / vocals, guitars, keyboards