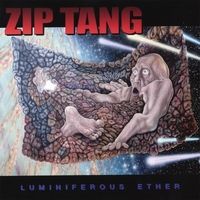 Very talented band from the states who's music is more in the jazz/rock fusion mould, but also has more progressive qualities akin to Zappa and King Crimson and even touches of zeuhl here and there. There's top notch musicianship throughout with also some vocals.
The lengthy reworking of 'Tarkus' is particularly outstanding.
A fine debut album and certainly a band to look out for!!
Songs / Tracks Listing
1. Tower Of Tuna (5:39)
2. Missed The Beginning (5:16)
3. Nothing Here (6:11)
4. Doctor Plush (9:59)
5. Like We Did Before (5:03)
6. Beta (5:48)
7. Searching For Treasure (4:25)
8. With A Twist (3:47)
9. Tarkus (Emerson, Lake & Palmer) (18:11)
Line-up / Musicians
- Perry Merritt / guitar, vocals
- Rick Wolfe / bass, vocals
- Marcus Padgett / keyboards, saxophone, vocals
- Fred Faller / drums
ZIP TANG - Tarkus (Eruption) Guitar & Sax
Zip Tang - "Tower Of Tuna" at House Of Blues, Chicago
Download mp3