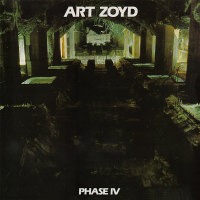 For me one of Art Zoyds best and strongest albums which marked the end of there more chamber classical RIO sound with real instruments.
A good deal miimalistic with lots of repetition this album is expertly and hypnoticaly integrated with its canvas of rich instrumentation.
Highlights as ever are the Thierry Zaboitzeff pieces ( especially the opening track ) with his excellent bass guitar work.
Songs / Tracks Listing
1. État D'Urgence (14:38)
2. Naufrage (6:41)
3. Dernière Danse (4:33)
4. Deux Préludes (2:05)
5. La Musique D'Erich Faes (Collective Improvisation) (0:14)
6. Et Avec Votre Esprit (5:14)
7. Ballade (4:03)
8. Chemins De Lumière (15:09)
9. Du Sang Sur La Neige (4:16)
10. Vue D'Un Manège (4:08)
11. La Nuit (13:00)
12. Les Larmes De Christina (3:44)
- Gérard Hourbette / violin, keyboards, saxophone, viola
- Didier Pietton / percussion, saxophone, sax (Alto), sax (Tenor)
- Jean Pierre Soarez / percussion, trumpet, cornet
- Thierry Willems / piano, piano (electric), piano (Grand)
- Thierry Zaboitzeff / bass, guitar, cello, guitar (bass), vocals, voices, tapes
Art Zoyd - Dernière Danse
Download mp3