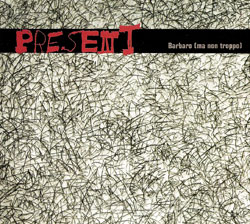 Progressive music of the 21st or 22nd century. This album sees Presents music going full cycle back to there 'Triskaidekaphobie' days , which merges the best of that album to say 'Universe Zero's ' Heatwave.
The addition of sax and cello really adds another dimension and Trigaux's guitar is very tight.
This is dense and dark RIO/ Zeuhl/ Avant Rock fusion at it's best with never a dull moment and definitely there best album since there debut. The complexities here are amazing. A masterpiece!!!
Songs / Tracks Listing
1. Vertiges (16:25)
2. A Last Drop (11:25)
3. Jack The Ripper (16:22)
Line-up / Musicians
-
Roger Trigaux- guitars,keyboards
-Reginald Trigaux- guitar
-Pierre Chevalier- piano,keyboards
- Dave Kerman- drums,percussion
-Kieth Macksoud- bass
-Matthieu Safatly- cello
-Pierre Desassis- saxaphone
-Udi Koorman- sound
-Laurent Van Gorp- tube