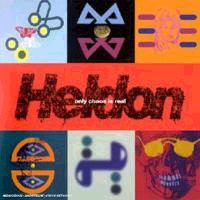 A curious and surprisingly different album from Heldon here,which has little of there typical sound except for Richard Pinhas's guitars and electronics.
Surprisingly this is much more punk/acid/ heavy metal styled with vocals that seem totally out of place. There is however one or two gems in here, notably ' Le Plan' which is very much like a track from Pinhas's 'L Ethique' album - say 'Dedicated to KC'. Great wails of frippian guitar and crimson drives with magma like bass and pounding drums are at the forefront here...... shame about the vocals though, although thankfully only sparse.
There's some really good moments elsewhere as on ' Ubik' (shades of Can here!) but nearly all the tracks are really spoiled by the vocals in my opinion.
True Heldon fans beware!
Songs / Tracks Listing
1. Only chaos is real (4:50)
2. Les Racines du mal (5:02)
3. Le Plan (8:42)
4. Holy Dolly (7:55)
5. Brighter than a thousand suns (6:05)
6. Next level (7:07)
7. Mutant monkey (5:42)
8. Ubik (7:07)
9. Last level (7:20)

Total Time: 60:03
Bonus CD:
1. Raw Power in Paris 1998
2. Brighter than a thousand suns
3. Only chaos is real
4. Les Racines du mal
Line-up / Musicians
- David Korn / vocals
- Antoine Paganotti / drums
- Olivier Manchion / bass guitar
- Norman Spinrad / lyrics and additional vocals
- Maurice G. Dantec / lyrics, analog synthesizers
- Richard Pinhas / guitar metatronic process & electronic

With:
- Alain Ranval / side guitar on "Holy Dolly"
- Duncan Nilsson / side guitar on "Holy Dolly"
- Bernard Paganotti / bass guitar on "Le Plan", "Ubik"
- Benoît Widemann / organ, synths, Minimoog bass
- Alain Bellaïche / side guitar on "Ubik"
- Philippe Laurent / electroloop on "Only Chaos is Real"
Le Plan
Heldon - Only Chaos Is Real
Download mp3