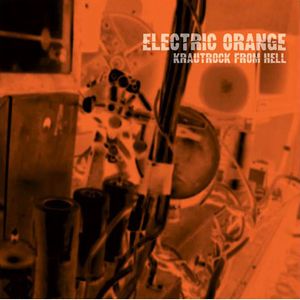 The latest release from these german krautrockers, and a really great one too deserving of a track by track synopsis.
'Bandwurm' has rock solid bass and drums with swirling organ and effects diving in and out of the mix. A fantastic psychedelic track whch is really out there.
'Sundoa' starts off kind of space boogeish with some great flute , reminds me a little of some 'Brainticket' with its psychedelic eastern flavor. Incidentally this has a remarkably similar riff in the middle to Bo Hanssons ' The sun ' from his 'Magician Hat' album. Superb track here ! .
'Chorg' is another spellbinding psychedelic rock track which incidentally is totally diferent to say ' Ozric Tentacles' ..... nowhere near as flashy and far more inventive. Electric orange never go in for hi flying guitar solo's which makes there music in my opinion more standout. This track is a fine example. Probably my favourite track this one!
'Hers' starts off very spaced out with guitar feedback and electronics. With vocals on this track it reminds me of some 'Porcupine Tree'.
'Kunstkopf' starts in a similar vein with swirly organ, rolling drums and guitar. Definitely some 'Can' influence here and a touch 'Pink Floyd'.
'Neuronomican' is the longest piece on the album, clocking in at over twenty five minutes. This again has some 'Porcupine Tree' even ' Anglagard' type sound with it's intense progressive rock structures juxtaposed against more subtle psychedelic moments. Some bizzare vocals in here too! This is a remarkably hypnotic piece which builds in power and strangeness.
'Wumloch' is the most improvisationally psychedelcly spaced track which surprisingly sounds for the most part like some early 'Tangerine Dream' Aka 'Electronic Meditation'.
Classic album then on the whole and almost as good as ' Morbeus'.
Songs / Tracks Listing
1. Bandwurm (5:44)
2. Sundos (5:00)
3. Chorg [Cpt. Gyrok's] (10:51)
4. Hers (9:38)
5. Kunstkopf (6:29)
6. Neuronomicon (25:02)
7. Wurmloch (15:40)
Total Time: 78:24
Line-up / Musicians
- Dirk Bittner / guitars, voice, percussion, tapes
- Dirk Jan Müller / organ, synthesizer, piano, mellotron, tapes
- Tom Rückwald / bass
- Georg Monheim / drums, percussion
- Josef Ahns / guitars, flutes