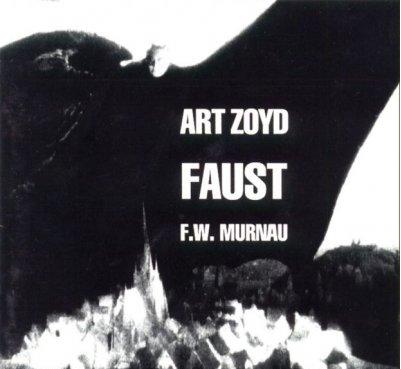 Initially I thought that the running streak of the first couple of albums had petered out by the later, more recent era of AZ, but having listened to this one a few times, I have been pleasantly surprised by the powerful material contained in this (I believe) score for a film...If this is not a score/soundtrack, well it sure sounds like it should be one. What we are dealing with is a musical collection so rich in sound and texture and ambience that the individual songs collectively convey a rich tapestry of images. Most are scorched earth and barren wastelands, dark corners; sinister, long, dimly lit hallways with voices echoing from nowhere. The story of Faust is centuries old, and a very potently symbolic tale of man's desire to know all, and the shortcut he is willing to take. In yearning for "the secrets" and pleasures of life, Faust had made a pact with the Devil (actually his representative, Mephistopheles) for said treasures, yet sealed his fate by turning over his soul in exchange, forever damning him. No doubt a strongly Christian, cautionary tale, warning of the road to excess and its damning consequences. I suppose a modern interpretation would be the southern "meeting the devil at the crossroads".

The music evokes the imagery so well in this album, that you feel as if you yourself are descending into the despair of an inescapable fatality.... The music starts immediately into a chilling descent, in the track "down" where the harmonies clash ever so slightly in such a way, building downward glissandi, in such a way that you are not quite sure if the pitch is descending, it is maddening and delirously dizzying- the way the music seems to bend downward, as if the protaganist (you) were being pulled into a descent of frustration, desperation, and madness. I must say this begins the nightmare rather well. This may just be the DARKEST album they have accomplished. Of the longer two songs on here (the rest are shorter segues of textural and subliminal, minimalistic and potently emotional bridges that blend into each other- each one a cliff-hanger setting you up impatiently, even cautiously for the next), Gate Of Darkness 1 is palpable in its building crescendo- erecting the very gates of an entry into the darkest concept imaginable... as if one were staring into a portal that accesses the very depths of a grand and beautifully terrifying hell. It is a curious vista, one which begs you enter it. It does not overstay its welcome. As I write this review, it is the day before Halloween (Samhain), and nothing could be more proper than the ritualistic invocation of the true concept of the once pagan holiday... utilizing dark music to set the scene.

Although for the most part I love this album, I find that a few of the songs unnecessarily repeat a groove or notion. There are however always leading voices over this groove that solo, yet I almost expect the music to follow a more bold classical feel, wherein the individual voices lead their own way, pulling in different sections, yet many of the undercurrents build a gently boiling progression that builds, but at times is almost anti-climactic. To its credit, there are many more exotic instruments used here... very mysterious feeling abound. The music here is more concerned with building an overall brooding feel.

I am impressed that the collective known as Art Zoyd have managed to modernize their sound in such a way that they obviously did their homework, by this I mean they were heavily influenced by industrial and IDM and electronic/experimental acts. The sounds used here are almost Musique Concrete meets drone and dark ambient. There is a lot of texture and implied rhythm and beats, making this more subliminal and slow-moving rather than immediate like most of their other albums. I suppose it helps to have been exposed to the forementioned styles of music- in order to appreciate this album more. They utilize a pounding rain in one track, with rhythmic thunder claps. Another track has a cawing crow. I thought I heard a zither, repeating a haunting arpeggio.

In the song Pact, you feel as if the deal is sealed with the appearance of dark minions crawling on the floor towards you, branding your soul as you sign in blood. Although a short movement, the track Irruption is a clanging, pounding, demonic and metallic (in the sense that it sounds like a punishing heavy metal track, yet more industrial) passage that I wish they would have fleshed out more. It is intense and very driving. Dies Irae (day of wrath) is another favorite song, once again evoking the essence of an apocalyptic embodiment. Essaim, which is basically a word for a swarm of insects, constructs that very notion. It is like a manifestation of a plague. I actually imagined more of a "lord of the flies" sort of image, like the coalescence of flies, constructing the devil himself. It is a very rousing track. Accelerando is, just as the title suggests, a song that builds from a slow pulse of chimes in the fore with bass thump in the back, the rhythm of the chime multiplies exponentially every couple of measures and then subsides; then the bass takes its turn... the song ebbs and flows in the fashion.... building building building and releasing (etc.) As stated, many of the tracks are withdrawn and scared, quietly

Overall I would say that this album utilizes the ambient and chilling elements that make Art Zoyd so engrossing... I imagine that experimental Norwegian act Ulver has listened to this band at length... as they use some of the same tricks of suspense and impact through layering and building. This is the french equivalent of a horror soundtrack, although not cheesy. Its unfortunate that more people have not given this one a chance. I find that I enjoy horror movies quite a bit for the score... the way it manipulates your emotions and lends a real sense to the scenes that flash by, without which you would probably laugh at implied horrors. This album is oozing infection and erosion. ART ZOYD Faust music review by avalanchemastercrawling...


Art Zoyd - Gates of Darkness I

Songs / Tracks Listing
1. Down (5:23)
2. Gates of Darkness 1 (8:10)
3. Flask (2:44)
4. Plague (1:49)
5. Faust (3:31)
6. Marais (2:10)
7. Parole (1:36)
8. Pact (3:25)
9. Bruissement (3:21)
10. Essaim (1:40)
11. Irruption (0:31)
12. Gates of Darkness 2 (4:01)
13. Pavan (4:02)
14. Dies Irae (3:57)
15. Procession (2:09)
16. Easter (2:26)
17. Marthe (1:44)
18. Games (3:46)
19. Intrigues (3:38)
20. Accelerando (11:51)

Total Time: 71:54
Line-up / Musicians