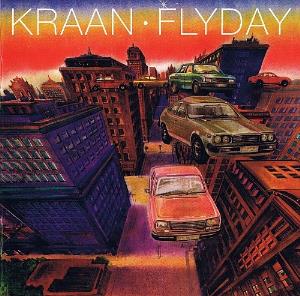 After Wiederhoren which is my favorire Kraan album ,I was not too happy when this album came out.I did not think it was the same quality and was a let down. Jan Friede the great original drummer was replaced by Udo Dahmen.Dahmen it a good drummer ,but I have a soft spot for Jan.
Now for the album.
Far West is a wonderful opener,a classic Kraan instrumental.Short and dreamy.Like walking without touching the ground.Love it,but a bit short.
My Brother Said,is stoner rock kraut style.OK.
Ausflug is amazing.Another one of those instrumentals, that these guys always have one or two of on each album. Got 3 parts: Slowish intro which drifts along nicely,for then to shift into a great upbeat groove,carried by guitar with a hypnotic bassline in the back.Then it drits back into a groove like the beginning,for then to fade out.Definately the high point on this record. An I-Tunes purchase if there ever was one.
Gayu Gaya.Nice lazy groove in the beginning,but drifts into a bit of a messy middle.Not too exciting for me.
You're Right.So so,upbeatish tune.
Young King'd Son.Nice slow paced song but the lyrics are silly and gets a bit annoying.
Buy Buy.Nice kind of instrumental.Kinda,because Buy Buy are the only lyrics.Melody is a nice one of those slow melodies,but the singing is kinda in the way,though there are not too many of them. Does that make sense?
Flyday.Very mellow instrumental,but it doesn't really go anywhere.
3* may be a touch much.But the 2 songs Far West and Ausflug really are amazing,I will be generous. Good,but not essential.
The cover made by Peter Wollbrandt ,the guitar player is quite unique. Hellmut Hattler and Peter have done most of their own covers.Well done.Review from
Progarchives.com

Songs / Tracks Listing
1. Far West (2:29)
2. My brother said (3:40)
3. Ausflug (7:13)
4. Gayu Gaya (5:06)
5. You're Right (5:55)
6. Young King's Song (5:35)
7. Buy Buy (3:33)
8. Flyday (3:21)
Line-up / Musicians

- Ingo Bishof / Moog synthesizers
- Udo Dahmen / drums
- Helmut Hattler / bass, percussion, backing vocals
- Peter Wolbrandt / guitars, vocals, strings, percussion