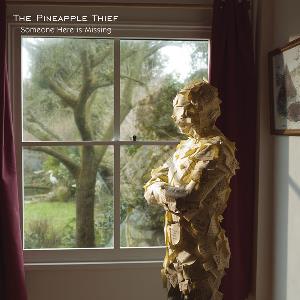 For years i've felt like I was the lone voice on this site telling any who would listen how good this band is.Yes i'm a fanboy although i'm not as rabid as many of their fans are (I can tell you some stories). They still have that blend of RADIOHEAD, SMASHING PUMPKINS and PORCUPINE TREE thing happening which is probably why most Prog fans don't dig them. This latest album is without a doubt their best record yet.They've added a little more heaviness but kept the emotion and great lyrics.The album cover is cool of this guy looking out the window with his arms folded covered with paper notes. As you open the booklet inside each page you turns to reveals more and more what these notes say.
"Nothing At Best" builds to a heavy sound then settles back and vocals arrive before a minute. Heavy outbreaks come and go. What a great track ! "Wake Up The Dead" opens with a beat as vocals join in. It's louder 2 1/2 minutes in, in fact it's pretty intense. "The State We're In" has this cool guitar line as vocals join in. Drums a minute in. It all stops for a second then returns with emotion. "Preperation For Meltdown" opens with electronics as guitar then vocals join in. It kicks in heavily before 2 1/2 minutes then settles as contrasts continue.
"Barely Breathing" is led by strummed guitar and vocals before the drums join in. "Show A Little Love" has this in your face drum/bass section with vocals. It kicks in before a minute as themes are repeated. "Someone Here Is Missing" opens with acoustic guitar and fragile vocals. Drums and a fuller sound kick in quickly. How good is this ! "3000 Days" kicks in quickly then it settles before 2 minutes. Vocals follow. Incredible sound here. It kicks back in after 4 minutes. "So We Row" opens with precussion-like sounds as guitars join in. Vocals 2 minutes in as it settles some. It's a little experimental before 5 minutes then it kicks back in at 6 minutes. Love how Bruce sings "Row, row, row, row..." over and over. Review from
Progarchives.com
A top five for 2010 for sure.

Songs / Tracks Listing
1. Nothing at Best (4:09)
2. Wake Up The Dead (4:24)
3. The State We're In (3:19)
4. Preparation For Meltdown (7:27)
5. Barely Breathing (3:44)
6. Show A Little Love (3:59)
7. Someone Here Is Missing (3:53)
8. 3000 Days (6:10)
9. So We Row (8:19)
10. Long Time Walking (4:48)*
11. Nothing at Best (Acoustic Version) (3:52)*
Line-up / Musicians

- Bruce Soord / Guitar, vocals and programming
- Jon Sykes / Electric and acoustic bass guitars, backing vocals
- Steve Kitch / Keyboards
- Keith Harrison / Drums and backing vocals