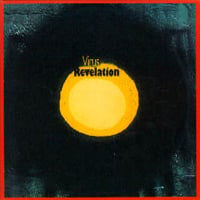 In the early 90's race to release rare German from the early 70's, three labels raged on: Repertoire (with their big means, they managed most of Phillips and subsidiary Vertigo and much more outside the country), Ohrwaschl (who released the legendary Ohr label as well as the other legendary label Kuckuck) and Second Battle, who always seemed to get the second choice material (getting stuck with Light Of Darkness, King Ping Meh and Gift. Lately of course, Garden Of Delights have been taking most of the cake, serving us a bunch of goodies (a few less ripe though), but when comparing labels specializing into German re-issues, Second Battle always seems to get the lesser ones.
This quintet recorded just two albums, this debut by excellent producer Konrad Plank in Munich - where so much of Germany's "spacier" rock was being recorded. You might want to think of a cross of Floyd (for the heavy freak-out bouts) with some early 70's UK heavy progressive between Purple (Jon Lord for the organs) and early Sabbath (Geezer Butler on bass), or Raw Material.
The lenghty opener is a good 12-min+ improvisation based on the Stones' Paint It Black (a fave of mine and of many progheads as this was one of their most covered tracks), but this is maybe one of the best homage ever done to the track (along with metalheads Anvil and fellow early proggers Jody Grind). Endless Game (also above the 12-min mark) starts very slowly with great organs underlined by a superb and delicate guitar, being replaced gradually by a flute and bass riffs and then heavy freaking passages not far away from Floyd (around atom Heart Mother), simply great if not completely original, though!! Burning Candle is however a much shorter and harder track and can be thought of Alvin Lee jamming with Ten Years After. The 10-min+ Hungry Looser is again sensibly harder rocking, until the song breaks into a bluesy piano, and it could be the low point in the album, but hardly worth pushing the SKIP button on your remote control. The album closes on a 7-min+ psych deliria bringing you gladly back to the first few tracks. This heavyly Floyd-influenced track is simply awesome and much recommended if you are about to spark a Jamaican cigar.
They will then move to the ultra small (and now very collectible) label Pilz, but their second album (with only two original remaining members) will be a far cry from the great haunting atmosphere dominating this one. But with Virus, they struck a pretty good one, with this heavy psychedelic group specializing in lenghty space rock tracks (sometimes approaching Floyd at its spaciest) and dreamy voyage around our atmosphere. Yes, it was about time that Second Battle actually got the better release, leaving Ohrwaschl the worse one. Yes it was about time Second Battle actually released a superb album inn their re-issue series. Hardly groundbreaking but quite enjoyable. Review from
Progarchives.com
Songs / Tracks Listing
1. Revelation (12:14)
2. Endless Game (12:17)
3. Burning Candle (5:27)
4. Hungry Loser (10:30)
5. Nur noch zwei Lichtjahre (7:50)
6. Confusion (Bonustrack CD-Reissue) (3:18)
7. Facts Of Death (Bonustrack CD-Reissue) (3:38)
Total Time: 55:14
Line-up / Musicians
- Reinhold Spiegelfeld / bass
- Bernd Hohman / flute, vocals
- Jörg-Dieter Krahe / keybpards
- Wolfgang Rieke / drums
- Werner Monka / rhythm guitar