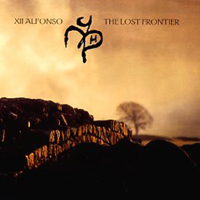 XII ALFONSO's story dates back in 1988,when they were found in Bordeaux by Francois and Phillipe Clarhout,Stephane Merlin and Laurent Cindicq.Between 1988 and 1992 they wrote exclusively instrumental music and they even recorded a concept album around Marco Polo's life.In 1993 they recorded their first single ''Costa Brava coast'',before visiting Scotland and UK and being influenced by the ruins of Hadrian's Wall in the town of Haltwhistle,they decide to create a concept album related with this theme.With the help of several musicians (among them Mickey Simmons and Dan Ar Bras) and singers and despite the line-up problems,XII ALFONSO release ''The lost frontier'' in 1996.
The music is pretty much laid back with scarce electric outbursts and mostly relaxed themes with an intense Celtic flavor.Their sound is pretty diverse and varied in these 16 short compositions,going from melodic electric passages to piano-based instrumentals and light keyboard-driven symphonic introductions.There is a heavy OLFIELD-ian atmposhere dominating the album with all these different instruments and influences mixed together in a generally soft progressive package.Actually the guitar work (and not only) reminds me of MINIMUM VITAL,though in a much more melodic presentation.What is quite clear are the strong doses of pleasant Celtic melodies (with some fine blending of acoustic parts with accordeon,pipes and flutes) and the tons of elegant acoustic guitars,trying to create a nostalgic climate.Notice also the ethereal female vocals,which are one of the highest points of this release.
Lovers of electric sounds will be pretty much dissapointed by ''The lost frontier''.However,both fans of MIKE OLDFIELD and laid-back but almost symphonic music will propably like this a lot.An interesting first step for the band.
Review from progarchives.com
Songs / Tracks Listing

1. Hadrian's wall overture (5:08)
2. Hello you (4:18)
3. Mist (5:06)
4. Minstrel's tale (8:27)
5. The ghost's song (4:03)
6. Lazy day in Haltwhistle (3:32)
7. Back to Northumberland (3:33)
8. Edges of empire (2:29)
9. Diving into the coal womb (2:29)
10. Breathing, scarcely (5:49)
11. Wheels of change (4:58)
12. Another day in Haltwhistle (2:17)
13. Heath (5:14)
14. Revival (3:50)
15. Thirteen winds (5:06)
16. Anthem (4:48)

Total Time: 71:07
Line-up / Musicians

- Philippe Claerhout / guitars
- François Claerhout / keyboards programming
- Stephane Merlin / keyboards
- Caroline Lafue / vocals
- Mickey Simmonds / keyboards
- Laure Oltra / texts
- Bernard Auzerol / bass
- Laurent Dupont / bass
- Dan Ar Bras / guitar
- Thierry Volto / drums
- Caroline Monteil / flute
- Laurent Sindicq / bass
- Thierry Moreno / drums, percussion