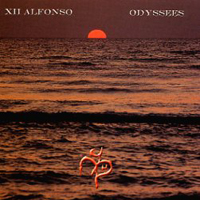 My opinion is that french band XII Alfonso is half-decently covered and rated...
Under the Claerhout brothers (displaying guitar and keyboards mpain input), they have achieved all along their five recordings a high level of musicianship and integrity, if not total originality. Unlike most of the french progsters, there's no Zeuhl or Ange's clone to be found, rather a stylistically inclined link to celtic and other western part of France traditions. So it's accurate to feel some ressemblances with Mike Oldfield and Camel for instance. Folk ingredients, few delicate songs in and overall instrumental work, musicianship devoted to the melody more than performance, attention to the general climate of the whole recording are qualities XII Alfonso share with their most famous british counterparts. While the two brothers form the core of the group, there is a lot of instruments and a long list of guests to be found on any of the records, so, if i choose Odyssées over any of the other records i enjoy equally, it's because of his immediate appeal, his perfect production, and within his 70 + minutes (which is the norm for them) a perfect summarizing of the seduction of XII Alfonso.
Symphonic for sure, the music clearly comes from classically trained musicians, and yet one can feel the energy inherent to rock idioms, in rythms and development. Clever they are for sure as well: any of the records benefits of the cohesion of a unique thematic path, based on artistic or historic topic. For "Odyssées" it is to be found on the great achievments of human mankind. The opening, with over 7 minutes in time, takes us on a space journey, portraying the american lunar missions of the 70's, mixing an array of synths with the recorded sounds of the the astronauts, alternating spacious sounds with rythms pulsations creating a captivating sense of motion. "Lythophonia", at the other end, takes us back to the beginnings, offering what could be the music of the cavemen. "La Révolution des oeillets" finds us aboard the first vapor machine trains; if not revolutionary in treatment, the idea of the railroad horsepower pulsing gives this other long piece a very efficient sound over which a nice guitar soloing trade licks with an effervescent acoustic piano. "Larrey"is a tribute to one of the first surgeons to bring medecine up to the front, during Napoleonian wars, and so on.Otherwise while the music is cleverly arranged and produced , there are a lot of small musical interludes, solo acoustic guitars ala Steve Hackett, peaceful piano, sparse songs with mostly female guests on vocals. A captivating while dreamy result that truly reach deeply into my musical soul...
Overtly recommended for those who enjoy the aforementioned artists, Anthony Phillips' work and most simply stated intelligence and subtility in art over raw energy or performance. Give me five! Review from
Progarchives.com
Songs / Tracks Listing
1. Eclipse (7:26)
2. Odyssée (5:58)
3. Lithophonia (3:09)
4. Message 95 (4:15)
5. Tomorrow (1:43)
6. Où Vont Les Amants? (7:43)
7. La Révolution des Oeillets (8:25)
8. Nil (2:56)
9. Invisible Links (part 2) (4:30)
10. Tout Passe (4:35)
Bonus tracks:
11. Noria (5:07)
12. Le dernier voyage (2:11)
13. Dominique Larrey (8:26)
14. En Castille (live 10/10/98) (4:40)
Line-up / Musicians
- François Claerhout / keyboards, programming, lithophones, rainstick, jaleos, percussion
- Philippe Claerhout / vali, acoustic & electric guitars, bass, lithophones, vocoder, keyboards, Chapman stick, kora, balaphone, e bow, percussion
- Laurent Dupont / bass
- Laure Oltra / lyrics, voice
- Judith Robert / vocals
- Antoine Tome / vocals
- Stéphane Rolland / electric guitar
- Michael Geyre / keyboards
- Thierry Moreno / musical glasses, drums, percussions, lithophones
- Philippe Rougé / lithophones, flute
- Stephane Merlin / keyboards
- Bernard Ozerol / bass
- Sandrine Rougé / vocals
- Mickey Simmonds / keyboards
- Dan ar Braz / electric guitar
- Julio Presas / electric guitar, bass, vocals
- Tito Correa / lyrics
- Lionel Gibaudan / bass
- Stephane Barrincourt / electric guitar
- Jean Luc Payssan / mandolin, bass pedals (14)
- Thierry Payssan / organ (14)