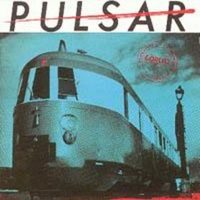 A surprisingly great album from one of Frances finest progressive rock bands, who in the 70's gave us such classics as 'Halloween' and 'Strands of The future'.
Strong on melodies and atmospherics this album has much of the bands trademark sound with 'Gandil's' warm and expressive vocals/ guitar counterpointing nicely''richard' and 'romans' spacey progressive keyboard backdrops.
It's certainly more listenable than there previous album, which had far too many vocals and short tracks where at least here we are treated to the excellent long opening title track.
Download mp3
Line-up / Musicians
- Victor Bosch / drums, pertcussion
- Gilbert Gandil / guitars, vocals
- Roland Richard / sax, keyboards
- Jacques Roman / piano, synthesizers
- Louis Paralis / bass
Songs / Tracks Listing
1. Görlitz (19:25)
2. Fin de voyage (4:00)
3. Naufrage (4:58)
4. Pour un autre départ (2:46)
5. Autour de toi (5:40)
6. Tara (3:00)

Total Time: 39:49