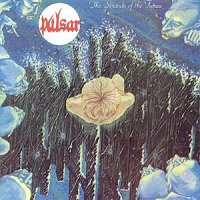 Out of all the releases by this classic french progressive rock band, this one has to be my favourite.
With a much more symphonic moody and dreamy progressive sound this is an extremely well crafted album which ties in perfectly with the strange artwork of the gatefold cover.
This is mostly epic and colorfull stuff with spacey mellotrons , flute and guitars which on occasion delves deeper into trippy avant prog with flashes of Fripp. Very well recorded for the time, this is a must have ...for sure!
Download mp3
Songs / Tracks Listing
1. The strands of the future (22:08)
2. Flight (2:37)
3. Windows (8:47)
4. Fool's failure (10:17)

Total Time: 43:49
Line-up / Musicians
- Victor Bosch / drums, percussion
- Gilbert Gandil / guitars, vocals
- Roland Richard / flute, strings
- Jacques Roman / organ, Mellotron, bass, synthesizers
Progressive Rock - The Strands of the Future - PULSAR
Pulsar - 04 - Fool's Failure