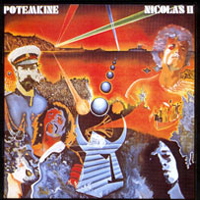 The third album by Potemkine is much more straighter jazz rock fusion styled which on occasion resembles some Mahavishnu Orchestra.
Much less zeuhl here than on previous releases ,except for the closing track which is probably my favourite track.
All in all a very enjoyable album if one prefers a more jazz rock fusion approach and is probably on the whole there strongest and tightest album to date, where the guitar playing is the highlight.
Nicolas II
Songs / Tracks Listing
1. Tango Panache (6:18)
2. Raspoutine (5:56)
3. Theme Pour Un Swing Imaginaire (5:37)
4. Air De Famille (3:19)
5. Ode De Mars (5:23)
6. Aux Images (2:41)
7. Amphitheatre Magique (6:45)
Bonus tracks:
8. Laure (4:32)
9. Foetus (6:18)
10. Hymne (2:00)
11. Ballade (6:17)
12. Cycles (2:17)
13. Nuit Sur Le Golan (2:19)
14. Cedille (5:56)
Line-up / Musicians
- Dominique Dubuisson / bass, vocals
- Jean J. Ganghofer / percussion
- Charles Goubin / guitar, vocals
- Michel Goubin / keyboards, vocals
- Philippe Goubin / percussion, drums
- Christian Rouge / percussion


Potemkine - Nicolas II - Tango Panache