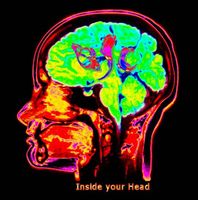 I think if you liked their previous album "The Back Tomato" then you should like this one. The music here was actually taken from "The Black Tomato" sessions, as they had around 150 minutes of music left over. So once again lots of guitars and synths, and the bass and drums are also very prominant.
"Substantia Nigra" opens with bass, drums and guitar that build including frog-like sounds (synths). A full sound after 3 minutes. A very repetitive track. "Optic Chiasm" opens with funny sounds with synths. Guitar and bass follow. Organ before 6 1/2 minutes. The guitar is great after 13 minutes, just lighting it up. "Fornix" opens with a beat and synths. It kicks into a groove after a minute. Nice chunky bass on this one. The guitar starts to grind away too. Then it turns sort of trippy with drums, deep bass liines and synths.
"Aqueduct Of Sylvius" features synths that twitter as guitar joins in. Bass is next. Drums after 2 minutes. The guitar gets fairly aggressive. Intense later on. "Vermis" opens with spacey synths. Guitar 2 minutes in. A steady beat after 6 minutes as the guitar solos. Keyboards after 11 minutes and some great sounding bass after 13 minutes.
Keep in mind that we have up to four guys playing synths and three playing guitars, so we get a nice full sound on this album for the most part. Not as good as "The Black Tomato" so a low 4 star rating it is. Review from
Progarchives.com
Songs / Tracks Listing
1. Substantia Nigra (10:23)
2. Optic Chiasm (16:36)
3. Fornix (12:53)
4. Aqueduct Of Sylvius (9:56)
5. Vermis (20:47)
Total Time: 70:35
Line-up / Musicians
- Tobias / guitar, effects
- Sebastian / guitar, effects
- Magnus / guitar, effects, synthesizer
- Dr. Space / synthesizers
- Mogens / synthesizers
- Ola / Fender Rhodes, synthesizers
- Jocke / bass
- Michael / bass (5)
- Søren / drums