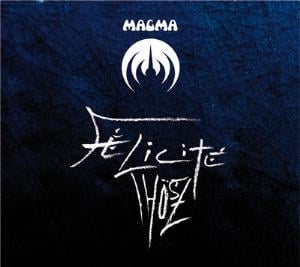 On this (hopely till know) not too much anticipated 2012 release of one of the most original and progressive bands of progressive rock history we get to hear a different side of Christian Vander's composition skills. In stead of creating a dark operatic en technical album, Magma returns with an angelic celebration of life. For some this might sound risky, but we've also seen Magma showing it's feel-good adventerious moods on K.A. and it worked out fine. The 'Felicite Thosz' suite should be regarded as being a single 28 minute lasting composition, but is devided in small pieces on the cd. With a total of 32 minutes of running time this 'album' could almost be regarded as being an EP, but whilst listening to the album it really impresses as a full-grown album. 'Les hommes sont venu' is an extra four minute minimalistic piece with an emphasis on female vocals choir arrangements with a very mystical atmosphere.
The instrumentation on 'Felicite Thosz' reminds me a bit of the Wurdah Itah period; with piano, vocals and drums beging the main instruments. Of course the bass guitar also plays a significant role and some electric guitar lines were well integrated into the compositions. At first spin I'm delighted when it comes to the production, it has more depth and sounds less dense then E-R' and K.A. The vocals sound more authentic and therefor are a great contribution to the liveliness of the record. The drums of Vander, whom I think of as my favorite drummer (next to Jaki Leibezeit), impresses with subtle new findings and great accents during up-tempo parts. His way of writing compostions from a base of very effective and complicated rhythms is also effective in this relatively optimistic album. The strong forwarded pulses and swing (though not recognisable as such) really get's the whole thing running like a well oiled machine. And yes, every Magma fan knows that Magma is gerantied to give away some moments of maximum intesive playing and grotesque larger- then-life sounding musical landscapes.
Conclusion. Yet another must-have Magma release for fans an perhaps the easiest entry into the band's discography to this date. The production is great, the compostion briljant and the album has a really postive, mysterious & adventerious mood that really cheers me up. Perhaps fans of the dark type Zeuhl will be a bit dissapointed, but they should try this album anyway. I'm giving four stars right now, but perhaps the album will grow on me some more.
* Edited. This is a masterpiece and therefore fully deserves the five star rating in my opinion. Review from
progarchives.com
Songs / Tracks Listing
1. Félicité Thösz (28:06)
Ëkmah - 2:39
Ëlss - 1:11
Dzoï - 2:27
Nüms - 1:51
Tëha - 5:15
Waahrz - 4:03
Dühl - 1:19
Tsaï ! - 3:41
Öhst - 4:53
Zahrr - 0:49
2. Les hommes sont venus (4:18)
Total Time: 32:24
Line-up / Musicians
- Stella VANDER / vocals, tambourine
- Isabelle FEUILLEBOIS / vocals, bells
- Hervé AKNIN / vocals
- Benoît ALZIARY / vibraphone
- James MAC GAW / guitar
- Bruno RUDER / piano
- Philippe BUSSONNET / bass
- Christian VANDER / drums, vocals, piano, keyboard
LES HOMMES SONT VENUS
- Stella VANDER / vocals
- Isabelle FEUILLEBOIS / vocals
- Hervé AKNIN, Sandrine DESTEFANIS, Sylvie FISICHELLA, Marcus LINON / vocals
- Christian VANDER / keyboard, glockenspiel