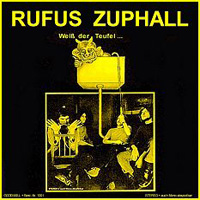 This wonderful debut album by the roots-oriented German prog act made a big impression on me, when I bought it over ten years ago. This is one of the few albums which has stood the test of time, and listening to it is still gives me lots of enjoyment enriched with nostalgia. Though the music is impressionistic and wild, it mostly bluesy 70's rock oriented by jazz, folk and slightly psychedelic influences. I think that the most talented musician of the band is UDO DAHMEN playing the drums. There are evident classic jazz influences to be heard in his playing. KLAUS GÜLDEN's flute is also a good extra color in the band's palette, creating both soothing and chaotic sounds.
The album begins with "Walpurgisnacht", a stoned bluesy rocker in the vein of early JANE. The second song "Knight Of 3rd Degree" has Spanish and medieval elements in the music, and it's metaphorical lyrics are fine, making up this track as one of the top moments of this wonderful album. The following songs "Spanferkel" and "Freitag" are instrumental numbers, the last one having very insane and painful sounding guitar solo. The second side of the LP holds the title track "Weiß der Teufel", which concludes many different elements like Gershwin's "Summertime" and mad flute solos to a wonderful avant-garde rock epic. Very emotional and powerful stuff!
My copy of this album is a vinyl released by Little Wing, so it doesn't have the bonus live material from Aachen, but I have heard them from my "Avalon and On" boxed set, and at least the live version from their "Avalon Suite" is a good performance of a fine tune. A very recommendable album, and worth of five stars in my opinion. Review from
Progarchives.com.
Songs / Tracks Listing
1. Walpurgisnacht (3:00)
2. Knight Of 3rd Degree (7:32)
3. Spanferkel (2:20)
4. Freitag (7:14)
5. Weiß der Teufel (17:09)
Total Time: 37:15