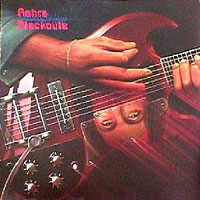 Fronted by guitarist Manuel Gottsching ,Ashra was his solo project continuation from the previous classic Ashra Tempel. This album features only himself on all instruments.
This is mostly a very enjoyable mix of spacey/ rhyhtmic guitars and sequencers with mostly short tracks. The lengthier Lotus stretches things out and on occasion resembles Tangerine Dream.
All in all a very effective album and definitely one of the best. Especially recommended to anyone who loves the works of say Tangerine dream.
Songs / Tracks Listing
1. 77 Slightly Delayed (6:42)
2. Midnight On Mars (6:50)
3. Don't Trust The Kids (3:30)
4. Blackouts (4:18)
5. Shuttle Cock (8:25)
6. Lotus Part I - IV (16:58)

Total Time: 46:46