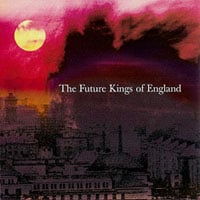 Future Kings Of England's self-titled debut is a mesmerizing gem that almost everyone seems to have missed out on. And if it hadn't been for mr Mellotron Storm so would I. A big thanks there! The band released 2 more albums since this debut and while they continued a high quality standard, none of them touches me as much as this one.
Future Kings Of England are a band that has found a unique spot for themselves inbetween majestic post-rock and psychedelic kraut/space-rock. You will also find traces of the mind-expanding 68-71 Floyd era, but it never really sounds like the Floyd to me. The band has more in common to GYBE, be it with more attention to melody and without those extreme quite-loud "dynamics". Both are a plus as far as I'm concerned.
Most songs are quite long, and gradually build, rise and release tension while going through big multiple bars spanning melodies. Fans of minor-key guitar arpeggios and soaring spacious leads will lick their fingers clean on this one. The sound is very open and organic, a bit rough in the drum department but all instruments resonate loud and cleary.
With such a low number of reviews I would certainly dare to call this one low-rated, even though the happy few who have visited this beautiful album have all rated it very highly. Very recommended to lovers of instrumental post-rock and space-rock.Review from
Progarchives.com
Songs / Tracks Listing
1. At Long Last... (1:01)
2. 10:66 (7:46)
3. Humble Doucy Lane (8:55)
4. Silent And Invisible Converts (7:29)
5. October Moth (3:48)
6. Lilly Lockwood (8:18)
7. The March Of The Mad Clowns (3:35)
8. Pigwhistle (14:00)
9. God Save The King (0:48)

Total Time: 55:30
Line-up / Musicians - Ian Fitch / guitar, xylophone
- Karl Mallet / bass, effect tapes
- Simon Green / drums, percussion
- Steven Mann / keyboards
- Anvar Valiyev / violin, narration