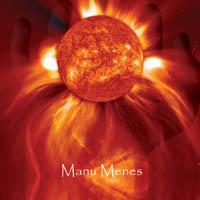 Just three long tracks here which to say the least are all quite extraordinary - from this Italian outfits latest album.
First off we have a percussion and piano based piece set to the ticking of a clock, which does have some passages reminiscent of early Art Zoyd with the bass pulses and heavy piano stabs. Some odd vocals also enter and there's some rather atmospheric ambient sections which appear on all three tracks in places. This first piece is the least musical of the three but does have it's moments for anyone into the zeuhl style and who likes a challenging listen.
The other two legthy pieces are more accesssible and progressive, which once again have some great ambient sections and more melodic vocal passages with hints of King Crimson in the guitar department. All very interesting and quite impressive.
I've not as yet heard the earlier albums by this band ( Andromeda is supposed to be there best! ) but this album is certainly worthy of me, or you checking them out if your not familiar. I also understand these are linked in a small way to that other great Italian band "Universal Totem Orchestra!
Songs / Tracks Listing
1. Alle Sorgenti di Kronos (24:28)
2. Aevum (21:38)
Tempo Alato
Il Tempo cos'è?
3. Phi-Ur (26:20)
L'Essere e il Non Essere
La Liberazione
Abbandono in Manu
Line-up / Musicians
- Cahal De Bêtêl / vocals, guitars, synthguitars, piano, keyboards, synthesizer, atmosphere noise
- Tipheret / drums, percussions, gamelan, piano, keyboards, voice
- Dauno Giuseppe Buttiglione / telluric bass
- Issirias Moira Dusatti / vocals


Runaway Totem - Tempus Fugiens?